This is a non- stop show with amazing performers: featuring our main act-
"The Rooster Ra Band"
. The band has produced a quality album of alternative rock originals, that will bring the house down. This band is one-of-kind heartfelt originals. Enjoy their humorous story songs with
Ray Waggoner
, lead guitar,
Scott Hughes
, stand-up bass, and
Robert Rachelli
, drummer.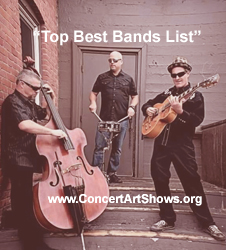 >>>RSVP Here
DAVID CASTRO PERFORMER: is our California singer-songwriter originating from Tulsa, Oklahoma. His cool genre is story folk/ rock/ and modern alternative. He has entertained audiences in California, Oklahoma, Kansas, Missouri, Illinois, & Indiana. His music venue credits include many distinguished USA festivals, including the Ink Life Tour & Music Festival in 2011, Tulsa International Mayfest Festival, Rocklahoma Festival, Eureka Springs Festival, & the AR Blues Festival. He has his CD album titled "Forward Parade" with his full band original arrangements. He is currently manager of Rookies on Main Street in Ventura. David is an awesome cool guy!
>>>More On Rebekah
THE BEST PERFORMANCES:
With great artists like
Bev Dunton
, flutist, percussion, and mandolin.
Rebekah Scogin
, harp, accordian, keyboards, mandolin, and native flute.
Nathan Naugle
, performs his originals, singer songwriter with his Taylor concert 6 string acoustic guitar.
Lily B
, our 11 year old student music nominee performs her amazing vocal songs.
Lucy Jane
, 12 years old, our visual arts scholarship student, presents 9 new art works in this exhibit. Saint Pierre, master of ceremonies & performer features all these winning performances in this action filled 6 hour non- stop entertaining show. It's a gift to Main Street, and our fans, friends, and family. Winchesters Restaurant will donate 20% of all food sales to our Non- Profit, Music And Art For Youth.