Saint Pierre Martin 12 String Guitar
Loading...


Concert Art Shows
A Saint Pierre Production
In The Cultural Arts

MUSIC VIDEO TV TAPING At All Concert Art Shows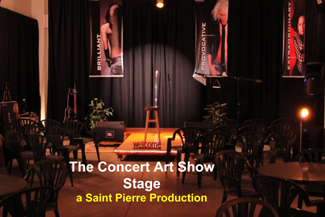 The Concert Art Shows are produced by Saint Pierre in the New Art City, Ventura. The stage is pictured above. "Every Concert Is An Art Show". Celebrating the cultural arts for over four years. Thank you to all our fans. "Best Show Venue".