The Rock Star Concert Art Show
"A Grand Expression Of Music, Art & TV"
Community Cable TV Channel 6
THE ROCK STAR CONCERT ART SHOW: features mainline acts for a live performance of world class rockers starring WAV legend band, We Govern We. and All Natural Ingredients, our amazing discovery. >>>>More On All Natural Ingredients The amazing theatrical rock skills of these performing artists brings our audience to high places filled with extreme enjoyment. These rock masters come together in one concert. Our Concert Art Show fulfills our great mission for the "Convergence Of The Visual Arts & The Performing Arts". Taras Tulek, WAV resident visual artist is featured with his original and alternative black light visual art. Our favorite black light dance artist, Jillian Nye, WAV resident artist and rock star dancer is amazing with WAV seven year old artist and dancer, Jubilee. Live TV artistic interviews are in our line up. The Rockin' Riders presents the "fixed gear exhibit" with amazing world buzz bicycles, true bike art. Every concert is an art show. >>>>See The Art Rocking with the season!
****Saint Pierre appears courtesy of Green Light Records.
Concert Art Shows
a Saint Pierre Production
In The Cultural Arts

MUSIC VIDEO TV TAPING At All Concert Art Shows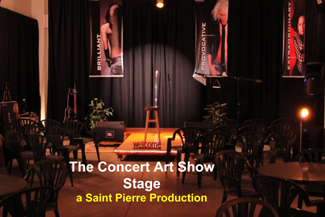 The Concert Art Shows are produced by Saint Pierre in the New Art City, Ventura. The stage is pictured above. "Every Concert Is An Art Show". Celebrating the cultural arts for over four years. Thank you to all our fans. "Best Venue Ventura".



Our Other Concert Art Shows