"An Amazing Show Experience"


This concert performance with this legendary music master... is Ultra Entertainment in an exclusive VIP show. The Dave Mason Band is a hot ticket! The setting is elegant and intimate with an ambient atmosphere, state of the art professional lighting and sound systems. The show features the greatest concert music experience featuring world class award winner

Dave Mason

at his best... a VIP one time opportunity!


BIOGRAPHY
BIOGRAPHY DAVE MASON:
Unencumbered by a commitment to a band in Engand, Mason moved to Los Angeles and joined Delaney & Bonnie & Friends in 1969. He played lead guitar and toured with them opening for Blind Faith. Delaney & Bonnie had a #2 hit with Mason's song "Only You Know and I Know". In 1970 he signed a solo contract with Blue Thumb Records, and began cutting his debut solo album, co-producing it with Tommy LiPuma. "When we got together, and he played me lots of the stuff from the album, the material was just ridiculous," meaning ridiculously good. "He had just bought a 12-string, and he was realy in love with it. The songs were just so strong, forget it. You had to be deaf not to hear it."
The first result of the sessions was a single, "World in Changes", released in April 1970, followed by the full album, the classic Rock n' Roll masterpiece and enduringly powerful Alone Together in June. The album reached the Top 25, stayed in the charts six months, and went gold, while a second single, "Only You Know and I Know" became a Top 40 hit. His next career move always seems puzzling, but it shouldn't. One of Mason's earliest friends in Los Angeles was Mama Cass Elliot, and in 1970 they formed a duo, which they launched with a performance at the Fillmore East in New York in September, and in the next year released the album Dave Mason and Cass Elliot. The duo was short lived, Mason briefly hooked up with a new configuration of Traffic, doing only six shows yet culled the live album, "Welcome to the Canteen", where we hear a live version of "Feelin' Alright" </feelin-alright>, and "Sad and Deep as You". After the shows, Mason stayed back in England and was an original member of Derek and the Dominos with , prior to Layla. Dave was replaced by Duanne Allman.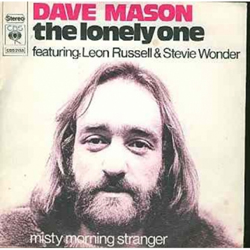 Meanwhile, Mason became Blue Thumb's most successful recording artist. As was commonplace, he was asked to renegociate his contract. When Blue Thumb demurred, he stopped working on his follow up to Alone Together, sued the label, and took the tapes he had recorded so far. Blue Thumb still had two-track copies of the material and released them as "Headkeeper" in 1972, and Dave Mason is Alive in 1973. Mason denounced them as bootleg, and was forced into bankruptcy. Yet it freed him from Blue Thumb, and he signed then with Columbia.
The Columbia relationship was wildly successful, with two albums going gold, Mariposa del Oro, and Dave Mason, followed by Let It Flow going Platinum, and including the classic "We Just Disagree" which became a top 20 hit. In addition, Mason became a huge success as a major concert attraction, playing venues such as Red Rocks, Madison Square Garden, and the Los Angeles Forum during the 1970's. His brand of melodic mainstream rock had fallen from favor by the start of the 80's, when his Columbia contract expired. He stayed on the road in spite of it becoming a difficult time for him personally. "I didn't even pick up a guitar for a year. I stopped writing. I had my bouts with drugs and alcohol, and I really needed to get away to see when I wanted in life." Finally, he cut the album Some Assembly Required, which was released by Maze Records of Canada in 1987, then hooked up with the Voyager label, distributed by MCA for Two Hearts, released at the end of the same year. Mason continued to perform, suffering a great blow when his long time colleague and friend Jim Krueger died in 1993. Shortly after, he joined a new lineup of Fleetwood Mac in 1994 and 1996. The group toured, then recorded the album Time, released in 1995, which included two songs co-written by Mason.
By any measure Dave Mason has had a full life, difficult enough to have discouraged a less determined man and to have defeated a less talented one. It was always Mason's musical ability, as a writer of classic songs and a stunning performer able to attract a loyal following that has kept him afloat personally and professionally. He has always loved the music. As Bill DeYoung in Goldmine Magazine writes, "Mason made one bad business move after another, picking the wrong managers, signing the wrong contracts. He had the usual problems with drugs and alcohol, and with relationships with lovers, and band members, but at the end of the day, as always, it was the music that mattered."
In a 2011 interview Mason said, "Living is definitely not for the weak or faint of heart; its a constant work in progress".
And so Mason continues to follow his heart's calling. He continues to hold considerable weight in the industry as one who carries a powerful legacy and indelible mark on Rock and Roll. Not many music legends in their 60's create and perform with the same energy and vitality that defined their early days. Dave Mason is a rare exception. He enjoys a zest for live performances in addition to a ceaseless ethic of writing and recording. In 2008 he released 26 Letters, 12 Notes, his first album release in more than 20 years. With today's technology supportive of his entreprenurial spirit, Mason is begining to release heretofore private recordings, revealing yet again a new phase in the dazzling career of Dave Mason.