(New Album Music Video from Saint Pierre)
/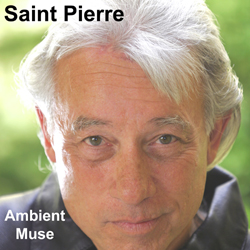 >>>Get Directions >>Preview Music Video Now
CELEBRATE HIS NEW GUITAR ALBUM ::: "A Peace & Comfort For You TITLE: "Ambient Muse" Stream on your favorite music service: Spotify, Pandora, Amazon Music, Apple Music, and Itunes. Experience peace & comfort in bad times & good times with his amazing music. PEACE is his solution. He this all- encompassing guitar instrumental album with melodies of music intended to transform you into a creative atmosphere of peace & quiet. The arrangements turn over in the mind; while meditatively & reflectively becoming absorbed in thought. Ambient Muse genre of music is designed with an emphasis on tones, atmosphere, creative musical structure, and rhythms. It accommodates many levels of listening attention without enforcing one in particular. These arrangements are as different as they are interesting.
***Saint Pierre appears courtesy Of Green Light Records

EVENT September 8th Saturday Morning

The Farmers Market Outdoor Morning Show- September 8th::: 8:45am- noon
>>>RSVP For This Event
"A Don't Worry Be Happy" Saturday Morning Event
>>>See The Farmers Market Music Video (2 minutes)
EVENT DETAILS:
Enjoy the best selection of fruits, vegetables, honey, and creative natural booths filled with tempting goodies. The event starts early Saturday morning and makes the weekend so enjoyable. It's our music performance under the trees with natural rock seating featuring Saint Pierre's new ambient instrumental master guitar album. It's a free show. Our art students will be performing amazingly with music &
FREE FACE PAINTING
. "The breakfast TAMALES (veggie & chicken) are extraordinary."Don't Worry Be Happy... The Best Things In Life Are Free"
Downtown Ventura, California At The Corner Of Santa Clara & Palm Streets
>>>Directions