The Concert Art Series 2018
"An Expression Of Music And Art"
>>>See Our Student TV Show >>>Saint Pierre Music >>>Click For "Top Best Bands List"
CONCERT ART SHOWS: We are proud to present our non-profit organization 501 (c) (3). Every show is top level entertainment for the worthy cause that benefits the artists and helps needy kids! Audiences relax and enjoy our art exhibits and live performances. All donations go to needy kids for scholarships through alternative accelerated education in the visual arts & music arts. These are extraordinarily gifted youth that are 9- 19 years old. The shows feature emerging opportunities to introduce gifted entertainment to the community. The demographic of fans, friends, family, and concert-goers extends from Los Angeles to Santa Barbara. Our main base is primarily from greater Ventura County. We hope that you enjoy our next event. Thank you for your support. >>>See The Kids >>>See Our Free Student Scholarship Programs

EVENT TUESDAY May 29th
WINCHESTERS On Main Music Show: May 29, 2018 at 4pm till 10pm
>>>RSVP For This Event
An amazing Spring Time 2018 open house night of non- stop entertainment & music from our "Top Best Bands List". The restaurant has received many awards for their outstanding menu. Enjoy. We're jazz-ed about this. Thank you Owner, J.R. Ford, Sam & Jacque Book, and the Winchesters' staff. Featuring a GREAT MUSIC LINE UP with Natalie Wattre, Shana Radashaw, D. On Darox, and David Castro + Our KIDS!

EVENT First Friday Night
June 1st ::: 6pm- 9pm Downtown Ventura
Eclectic First Friday Studio 218
RATING: ☆☆☆☆☆
Celebrate life with us! Host Saint Pierre welcomes you to his amazing music studio & art gallery exhibit with some interesting artistic creativity. Enjoying the times! Experience the artistic environment of Ventura's $69 Million Dollar Exclusive Community Art Center. Come to The WAV 175 S. Ventura Avenue Studio 218, Ventura, California 93001 (corner Thompson & Ventura Ave Downtown) Working Artists Ventura). (805) 479-4000
>>>RSVP For This Event


Entertainment & Dinner Served At Our New Harvest Cafe:
>>Check Dinner Menu
Note: Every First Friday is a special dinner menu.
Elevator Second Level On The Promenade ::: Come To Studio 218 (At The Flashing Open Studio Sign)
>>>Get Directions

EVENT June 2nd Saturday Morning

The Farmers Market Outdoor Morning Show- June 2nd ::: 8:45am- noon
>>>RSVP For This Event

"A Don't Worry Be Happy" Saturday Morning Event

>>>See The Farmers Market Music Video (2 minutes)

EVENT DETAILS:

Enjoy the best selection of fruits, vegetables, honey, and creative natural booths filled with tempting goodies. The event starts early Saturday morning and makes the weekend so enjoyable. It's our music performance under the trees with natural rock seating featuring Saint Pierre's new ambient instrumental master guitar album. It's a free show. Our art students will be performing amazingly with music &

FREE FACE PAINTING

. "The breakfast TAMALES (veggie & chicken) are extraordinary."Don't Worry Be Happy... The Best Things In Life Are Free"

Downtown Ventura, California At The Corner Of Santa Clara & Palm Streets

>>>Directions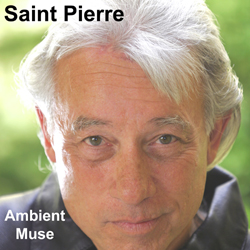 >>Preview Music Video Now
CELEBRATING MY NEW GUITAR ALBUM ::: "A Peace & Comfort Gift For You"
NEW GUITAR ALBUM TITLE: "Ambient Muse"
SAINT PIERRE: A FREE Gift for you to help bring you peace & comfort in bad times & good times. PEACE is a daily solution. I am presenting this all- encompassing guitar instrumental album with melodies of music intended to transform you into a creative atmosphere of peace & quiet. The arrangements turn over in the mind; while meditatively & reflectively becoming absorbed in thought. Ambient Muse genre of music is designed with an emphasis on tones, atmosphere, creative musical structure, and rhythms. It accommodates many levels of listening attention without enforcing one in particular. These arrangements are as different as they are interesting.
***Saint Pierre appears courtesy Of Green Light Records

Concert Art Shows
a Saint Pierre Production
In The Cultural Arts