"An Amazing Songwriter Musical Experience"
THE TK SHOW:
is presenting music by TK, a diverse collection of styles that has evolved over decades and includes rock, jazz, and folk as his initial influences.
Guitar is TK's primary instrument. Enjoy his acoustic guitar songwriting with "finger picking good" techniques. You will hear different chording and strum styles as compared to his electric guitar songwriting that has a different riff and pick strumming. TK's lead bending approach will integrate all of his styles. Improvisation is inherent in TK's approach to music which he incorporates into this Concert Series. TK's show raises funds for needy artist kids in the visual and performing arts.
>>>See Our Current Schedule Of Shows
>>>See TK's Fund Raiser Kids' Cause
BIOGRAPHY: TK's songwriting influences include John Mayer and the Beatles to the acoustic Brazilian jazz of AC Jobim and Joao Gilberto which you can hear on the current album ARCHIPELAGO. As a singer tk has been influenced by jazz vocalists such as Al Jarreau and Michael Franks, to the folk of James Taylor and the rock of Robert Plant and as a lead guitarist you can hear the influence of Jimmy Paige and Eric Clapton . For his next album, TK is working on some pop-rock oriented material which he plans to incorporate into his Concert Series performances. At his upcoming show, you will enjoy TK's songwriting arrangements from past, present, and future albums. TK's guitar and vocal improvisation will come alive with the vibe of a sandy shore, a tropical breeze and the smooth sound of rhythmic acoustic-electric jazz, singer-songwriter tk on vocals and acoustic guitar, Trent Hinkforth on electric jazz guitar, Dr. Dan Goicoechea performing percussion, and Mike Stoliker on bass, are the TiKiz and they will transport you there with an exotic blend of tk's tunes, vocal originality and the cool strains of island jazz.
BIOGRAPHY THE TiKiz BAND:
tk (tom kwake), singer-songwriter-musician-producer, has recently wrapped production on his 7th album, the solo-effort "ARCHIPELAGO" (Brazilian/Latin/Bossa Nova-style jazz). He is currently playing out live on acoustic guitar, performing mostly original songs in the songwriting styles of jazz-rock-folk-blues. A few of tk's musical influences are BB King, the Beatles, Al Jarreau, Michael Franks, Led Zepplin, Crosby-Stills-Nash, and John Mayer. His current resurgent interest in Latin jazz comes from performing as a duo with an instrumental guitarist, Chris Spirros, back when they were 17 years old. Chris was heavily influenced by Brazilian Bossa Nova-style jazz, where tk played acoustic lead guitar and forged a fusion style that included a more folk picking approach, which he brings to the music of the TiKiz Band.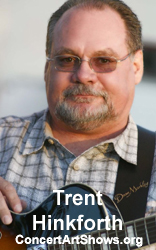 BIOGRAPHY TRENT HINKFORTH: is known for his tasty jazz-rock guitar leads. He has performed and recorded with tk on an earlier album, tk's "String Theory". He is well known in Ventura County and plays regularly in a number of bands. Trent started playing guitar at age 10 (though played other instruments before that) and has influences from the Ventures, the Beatles, Rolling Stones, Jimi Hendrix, Eric Clapton, Larry Carlton, Johnny Winter, and others.
BIOGRAPHY DR. DAN GOICOECHEA: is called Dr. Dan the rhythm man. Chiropractor by day and percussionist by night, he has previously performed with tk and contributed the percussion rhythm on the "String Theory" album. Dr. Dan has performed in other bands. He was a member of the Boys Club jazz band for President Dwight Eisenhower in Wash. D.C. He has performed Latin Jazz with Miles Davis Jr.; and jammed with bands in New York with Joe Cuba, Willie Colon; and opened for Bobby Caldwell with Enuff Said Funk Band in Ventura. His musical Latin jazz influences are Eddie Palmieri, Tito Puente, Mongo Santamaria, Ray Baretto, Carlos Santana, Poncho Sanchez.
BIOGRAPHY MIKE STOLIKER: As Bassist, he relatively new working with tk & the TiKiz. He met tk through another non-profit organization for children,
www.littleedwinstriumph.com
, where Mike played bass on a recording project that tk, as acting musical director, was co-producing for that organization. Mike is an accomplished singer-songwriter-musician, who has more of a hard rock-heavy metal influence but works in all genres of music.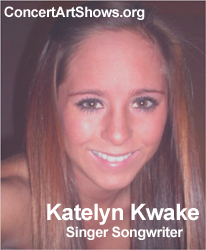 BIOGRAPHY KATELYN KWAKE: Katelyn and her father, TK, have been writing and recording songs together since she was age three years old. She likes a wide variety of musical genres with interest in pop and R&B. Both Katelyn and TK are currently working with a hip-hop production company (WPGM) with a number of different artists. Katelyn is also an intern at a record label and learning some of the inside ropes in the music business. One of her goals is to become a published singer-songwriter. Katelyn performs her original songs in the TK Show. We welcomed Katelyn Kwake to the Concert Art Shows in TK's debut show at the Winery Concert Series!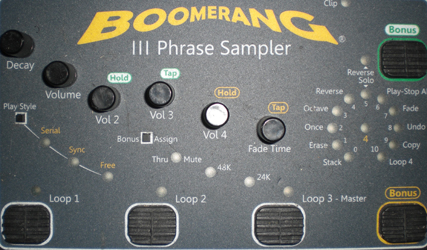 TK is expert with the FX LOOP Phase Sampler in his solo performances!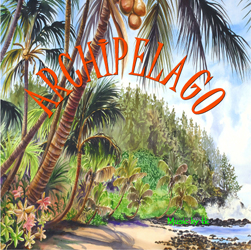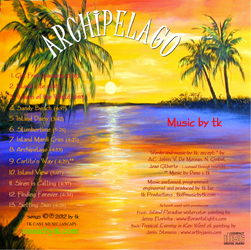 DISCOGRAPHY: includes six albums starting in 1992 with Human Feelings (electronic rock-jazz) to his latest album ARCHIPELAGO (tropical themed acoustic Brazilian jazz) just finished late in 2012. Music has not been TK's main profession as he has had a scientific/industry background and career. As a producer, TK is currently working with his singer-songwriter daughter in the pop, rock, R&B and hip-hop genres.
TK's CD MUSIC ALBUMS:
ARCHIPELAGO : music by tk (Brazilian-Latin-Calypso Jazz) - 2012
String Theory : tk & the Cabana Boyz (smooth Jazz) - 2009
Big Bang Day Dream : tk (Rock) - 2008
2 In The Morning : tk or Tom Kwake (Acoustic Folk-Jazz) - 2004
Wind Blown Days : Tom Kwake (Folk) - 2002
Human Feelings : TK Cast (Pop-Rock-Jazz) - 1992
Concert Art Shows
a Saint Pierre Production
In The Cultural Arts